This is your Q4'20 Membership Report from the Member Rebate Program. It provides you with a summary of Builder Member participation on the State and Local HBA level. Below you will find some helpful statistics and attached is your Q4'20 Membership Report. The quarterly membership report can serve as a useful tool for recruitment and retention by providing you with the summary of builder member participation on a quarterly and cumulative level.
In effort to help promote Q1'21 claiming, attached is the current flyer to share with your members. Please share this information with your Builder and Remodeler Members.
Q1'21 New Participating Manufacturers
We are excited to announce that new participating manufacturers have joined Member Rebate Program and claiming can begin with Q1'21 claims.
LG – Life's Good – Participating Products: LG Appliances, LG Studio Appliances, LG Signature Appliances, and Signature Kitchen Suite Appliances
Swidget – Power to Live Smart – Swidget manufacturers the only future-proof, modular smart devices in the global market today
Huntsman Building Solutions – Spray Foam Insulation. Now includes three brands: Icynene, Lapolla, and Demilec.
We value HBA Membership and are committed to providing a benefit that provides the ability to help negate membership dues. Membership Retention continues to be our goal for 2021! Please share the benefit of your Member Rebate Program with your members. We look forward to the opportunity to help them.
SAVE YOUR MEMBERSHIP by encouraging your Builder and Remodeler Members to participate in quarterly rebate claiming through Member Rebate Program. It can be the key to member retention!
The Member Rebate Program HBA Portal is Live. The Member Rebate Program HBA Portal provides you with a one-stop shop for the promotional materials, educational tools and quarterly membership report. Your HBA should have already received an email invitation to the portal in July 2020. If your HBA has not received this invitation, please notify me without delay.
The Member Rebate Program HBA Portal login page can be accessed by this link:
https://portal.hbarebates.com/site/login
Your Quarterly promotional flyer in both an image file and pdf and quarterly membership report can continue to be retrieved on your dedicated Google Drive file folder too, via: HBAGrebates.com File Folder
HBAG Membership Report:
Attached is your current membership report of registered builder members.
The report reflects our most recent quarter's totals (Q4'20), 2020 YTD total and the cumulative total since this member benefit began.
HBAG Totals:
160 Registered Builder & Remodeler Members (told us where to mail their rebate check)
91 have participated (sent in a rebate claim)
Of the 91 that participated, $425,227.50 has been cumulatively paid to them!
Cumulative average per member = $4,672.83!
Local Performance: Q4'20
Below is a snapshot of how many claims were submitted by members of each Local HBA for Q4'20.
Any Local HBA highlighted in yellow did not have any claim activity for Q4'20.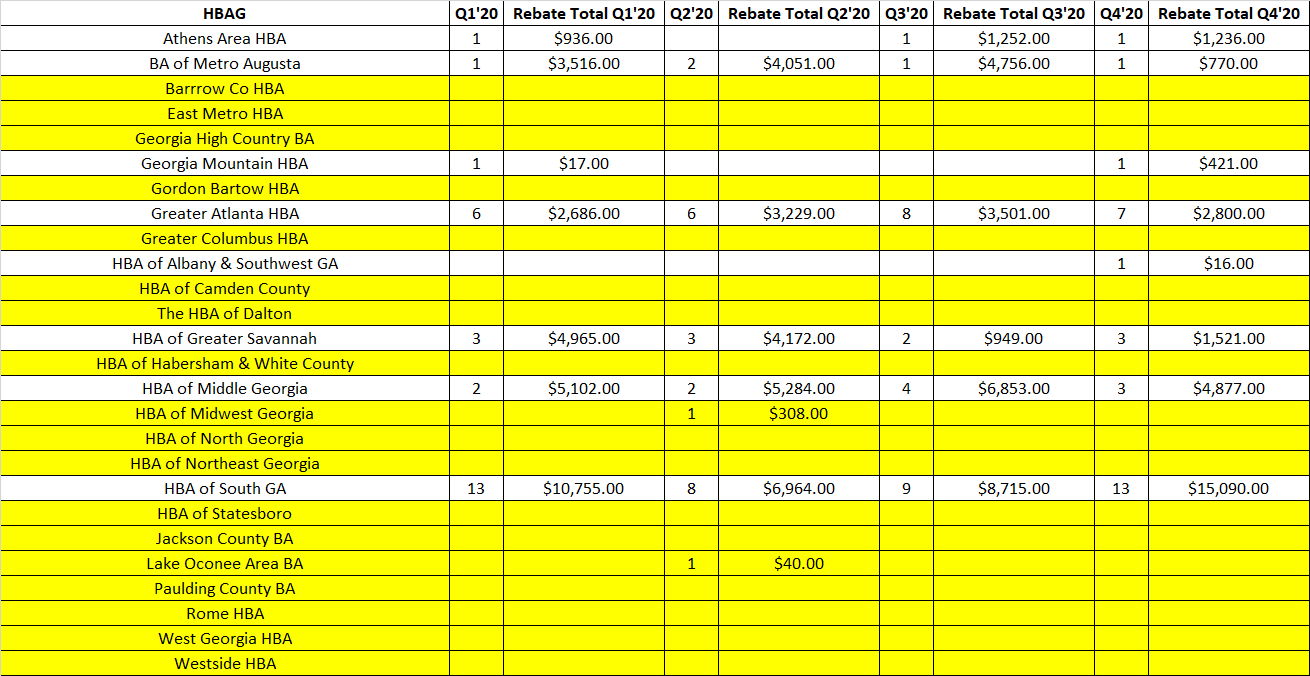 *claims that have a $0.00 rebate total were processed, but the address claimed for was either a previously claimed address or the manufacturer was denied